Latest Project: Welcome to Praxis Third Avenue Shelter
We at Praxis Housing are proud to announce our latest DHS housing facility entitled "Praxis Third Ave Shelter." The program temporarily houses 58 adult families with priority offered to those who have roots in CB 6 and surrounding communities in Brooklyn. On-site services include: case management, nutritious meals served three times a day, housing placement… Read more »
Learn More
Our Philosophy & Success
Our clients have diverse needs, and our staff is a family – made up of many men and women, some having experienced homelessness themselves. From the moment a client embarks on their journey home, Praxis staff members are with them, every step of the way.
11245
Permanent Housing Placement
Programs & Services
The approach we take to best meet the needs of our target population has three phases:
Meeting Basic Needs
Praxis is one of HIV/AIDS Services Administrations largest providers of Transitional Housing, with 345 units and counting.
Ongoing Support
Praxis operates 102 units of scatter apartments located in Brooklyn and Bronx. Clients are referred to Praxis from HIV/AIDS Services Administration (HASA).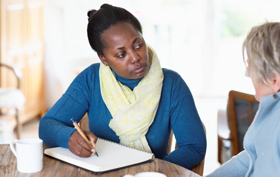 Intensive Intervention
A multi-tier approach is used to identify the barriers that contributed to chronic homelessness, conducted by our multi-disciplinary team.
Housing Portfolio
Praxis Housing Initiatives Inc., has been providing housing and case management to chronically homeless persons living with HIV/AIDS, Hepatitis C, physical disabilities, addiction, mental illness, domestic violence histories and re-entry population (formerly incarcerated). Praxis has been able to reduce recidivism back to homelessness, addiction, incarceration, through our low threshold approach to case management. Our approach is not complicated, but quite simple, we believe that our clients need to take part in planning for their future. We ask for their input, when identifying their barriers, challenges and goals.
Transitional Housing

Scatter Site

Permanent Housing
Our Mission
The mission of Praxis Housing Initiatives is to bring about sustainable transformation in the lives of chronically homeless persons with HIV/AIDS, mental health issues, chemical dependency, and other special needs. We do this by providing clean, safe housing, and support services that lead to recovery, stability, and ultimately, independence.